How to get a lot of Lost Ark Gold through Una Daily Missions?
Lost Ark
Date: Apr/26/22 09:49:22
Views: 126
We all know the feeling of being overwhelmed by our never-ending to-do lists. Whether it's work, school, or just life in general, there always seems to be more to be done than there is time in the day. So how can you get a daily task limit increase? Here's how you can earn up to 11,250 Lost Ark Gold in one go with Una's Daily Missions.

What is Una's mission?
Una's Missions are daily, unlocked by completing certain Missions for the first time and weekly Missions.

Yuna's daily mission
You can complete three daily Missions from Una each day (resets at 11:00). These give you 2 points for each task; more on that later.

Una's weekly mission
Additionally, each week (resets at 11:00 AM on Thursday), you can complete three weekly missions from Una, each giving you 12 points.
There are a total of 78 points, of which, in principle, only 70 points are required to obtain all Una's points.

Some marks
These brands are what we're working towards.
You can get the following brands here each week (currently Ilvl 600 as the item level increases):




There are 216 brands in total!


[UPDATE] Comparison with item level 1,300+: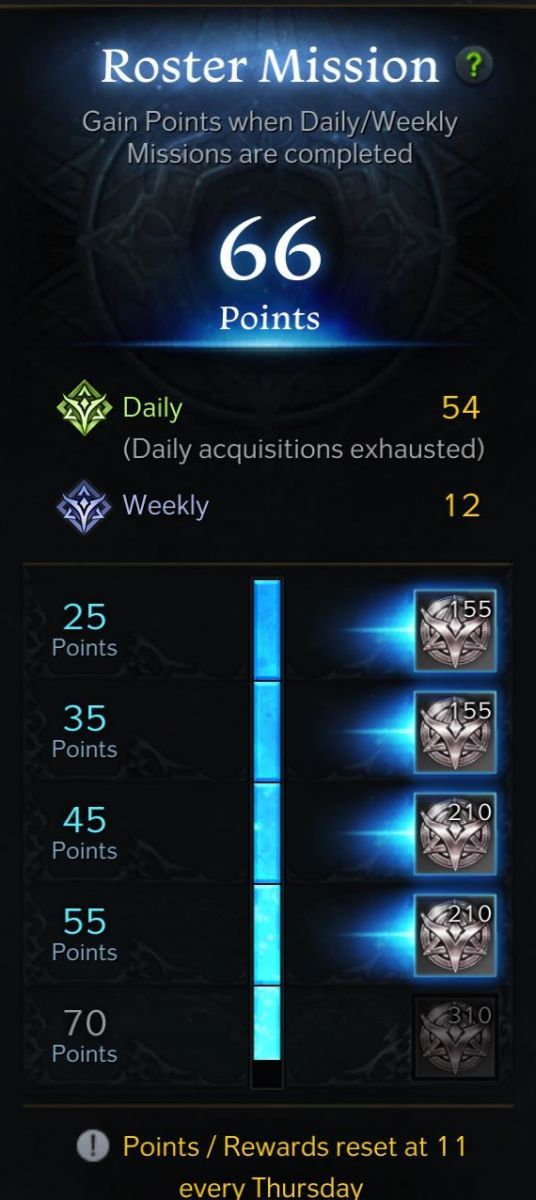 What do you need these brands for?
Now it gets interesting. In each town, a merchant will sell you 1 of 3 boxes in exchange for the Una Tokens you get, which has 100% a certain amount of gold, and you also get an additional amount of gold, depending on the Items are randomly received inside.
From the smallest bag of 80 Gold, you're sure to get 200 Gold, and then 100 or 1,000 Gold, depending on your luck.
From the small box of 200 tokens, you will get 600 Gold and then 100 or 1,000 Gold.
From the big box of 500 tokens, you're sure to get 1,250 Gold and then 100, 1,000, or 10,000 Gold!
So after completing daily and weekly tasks for over two weeks, you'll earn up to 11,250 Gold!
The whole thing is, of course, a matter of luck. No guarantees, at least not the maximum amount.

But here is another small calculation:
Bag: 200 / 80 = 2.5
kl. Crates: 600 / 200 = 3
Gram Crate: 1,250 / 500 = 2.5

If you are more interested in fast or efficient Lost Ark gold, you may want to choose Losarkgold as it performs best in terms of brand/gold ratio.