How to Get Lost Ark Island Soul Pirate Coins?
Lost Ark
Date: Feb/19/22 11:10:24
Views: 1751
In the process of exploring the game world of Lost Ark, you will learn about the Pirate coins of Soul of the Island, and you can get exceptional ocean content rewards and rewards after collecting them. By collecting a certain number of Island Hearts, you will increase the strength and speed of your ship and increase the total amount of seaborne.
Where can I get a lot of Pirate Coins quickly?
If you're new to the system, you may want to start with 16,500 coins to buy Vibes, which is all you need to buy some Mokoko seeds.
Raising so many coins now takes a relatively long time with the usual and permanent farming methods. There are at least some quests to help you. It's worth mentioning that you must have reached level 50 on all of these missions.
Since there is only one quest per island, we limit ourselves to the island name here. But if you have, you can visit the following islands and complete the questline there. It takes a different amount of time, and it's not always the same effort, but it's worth it in the end.
A total of 2000 Pirate Coins can be collected on the Giant Mushroom Island
Peyto and Glacial Island quests bring you 5,000 coins
You can also pick up 5000 gold coins on the escape island
Go a little more sublime, and you'll be rewarded with 6,000 Coins on the sublime island
It's better for you at Golden Waves. Here's 7000 Pirate Coins
On Kalthertz Island, you can collect 8,600 Pirate Coins
Fermata, the cradle of the sea, also weighs 9,000 Pirate Coins for you
It gets double digits on Atropos, where 10,000 coins are waiting for you
You can also collect a total of 10,000 coins in Blackfang's cave
On Liberty Island, you will also be rewarded handsomely. Here are 15,000 coins
The most significant rewards await on Lullaby Island, with up to 16,500 coins waiting for you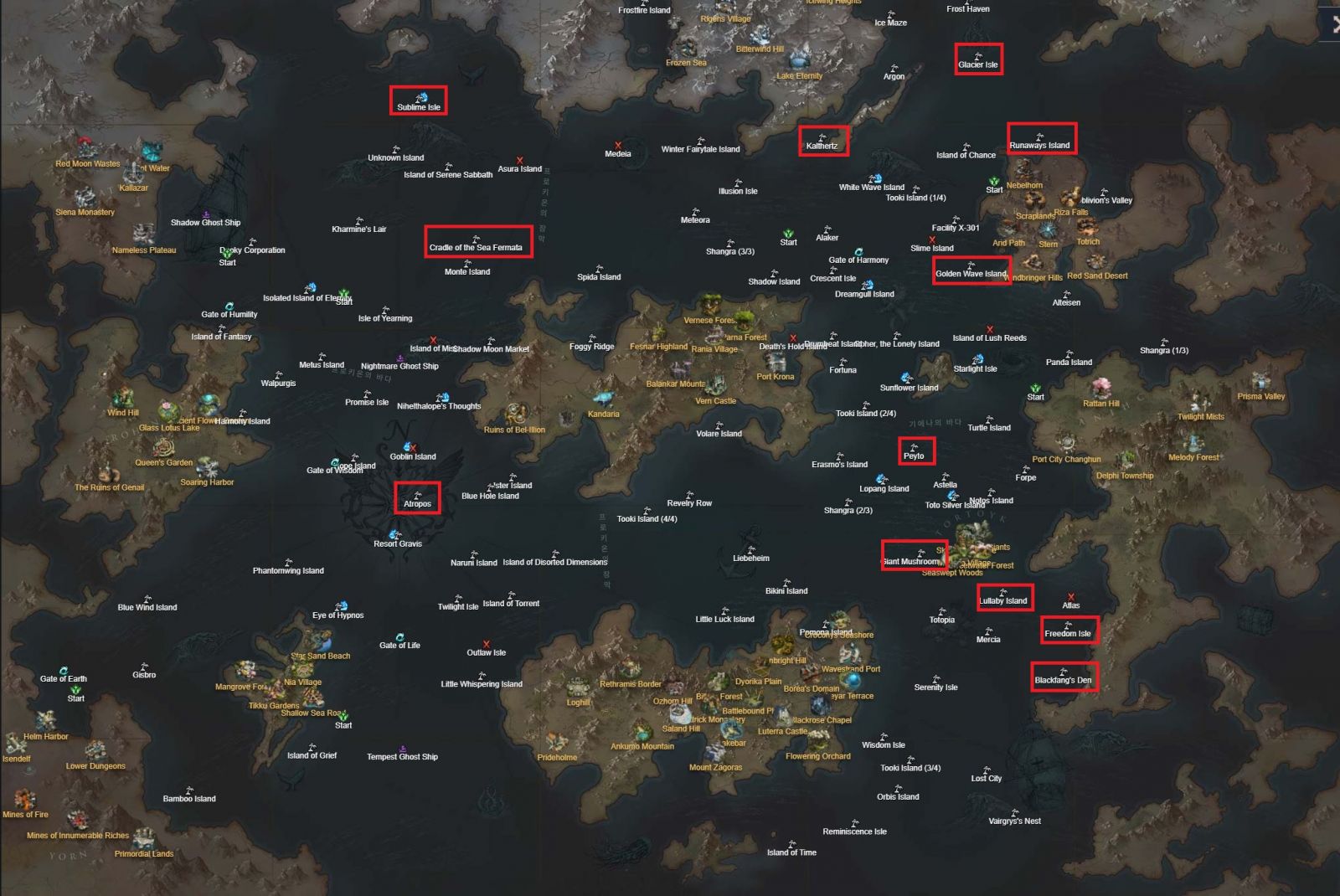 You can get the Soul of the Island by:
1. Purple task;
2. through events;
3. Improve reputation with NPCs;
4. Buy Lost Ark Gold.
All souls you collect will be in your inventory as items. You can redeem rewards at memorable NPCs (Statues) on Afares Island. Your attention is on the list of islands, the exact location on the map, and their receipt features.
1. Mushroom Forest
We saw or chopped down tall mushroom trees until the Soul of the island fell.

2. Toto Silver
Raise NPC Elder Toto's reputation to Exalted by completing his purple quest

3. Totopia
It takes five days to get the Soul of the island. We complete the daily quest "Topia's Teacher for a Day" five times (you need Ninav's song and pass the dog's test), then we complete the two purple quests, and then we can get the Soul of the island.

4. Singing Island
Open at specific times when the event starts. Requires Song of Resonance to complete. After completing the event, the Soul will drop from the chest.
Singing (lullaby) island appearance time: 0:40 / 3:40 / 6:40 / 9:40 / 12:40 / 15:40 / 18:40 / 21:40.

5. Starsong Lighthouse
Souls are obtained from purple quests. It is recommended to complete it simultaneously as the mission "Turtle Island."

6. Bolar
You can get Island Souls from treasure chests through twice-weekly events. What is an event?
Bolar event generation date and time: Friday and Saturday at 13:00 and 20:00 server time.

7. Ducky
A closed island with an open entrance (a golden funnel in the sea) during the event. There are 4 in total, but only one is available at a time. Watch a video about the Dooki incident.
Dookie event generation time: 01:10, 05:10, 09:10, 13:10, 17:10, 21:10

8. Secret Base X-301
Only available with equipment level 330+. We do purple quests until a yellow repeatable quest appears, with the Big Bang Protocol as a reward.

9. Rosterdin
The Soul of the island fell from the world boss Sol Grande. The kills are easy, mostly with time to kill (no countdown).
Sol Grande Boss spawn times: Monday 20:30, Friday noon, and Saturday 20:30.

10. Ice Heart Island
Souls are randomly dropped from bags or chests, and you can get them by freeing enslaved people at designated locations. Limitation - You can only free five slaves per day.

11. The Island of Ice and Fire
Kill World BOSS Briares (405 GS). You need to sail to the island before the event starts!
The Briareosis Boss spawns at 02:00 on Wednesday, 20:30 on Thursday, and midnight on Sunday.

12. Bikini Us
Do the purple quest in Stern.

13. Fortune Coast
We are looking for the pot of gold and breaking until the Soul of the Isle of Fortune falls out (a few hours at most).

14. Abode of Evergrace
Currently not working. We are waiting for a fix.

15. The Forgotten Island
To get souls, you have to complete quests on this island. The mission is simple, but you need to know the direction - follow this map. At the end of the path, the entrance to the dungeon will open. We visit each room, where you need to find an item.

16. Forfait
You can go to the island four times a week, with rooster events. Upon successful completion, the Soul will drop from the chest. Check out the For wait Island [activity] guide.
Forfait event generation date and time: Saturday and Sunday 13:00 and 20:00 server time.

17. Cruise Liner
An exciting and essential place in LOST ARK. Here you can buy the melody of the song of resonance, and you can also find various exchanges, merchants, and NPCs to upgrade equipment. To get the heart, complete the purple quest chain on the cruise ship.
Temporarily not working. We are waiting for the daily tasks on the cruise.

18. Afares
Afares is the same island where you activate the collected souls. Received immediately after the first conversation with an NPC.

19. Sunflower Island
There is an NPC exchange relic painting on this island. We need to collect ten artworks and communicate. Artwork is a collectible currency that can be earned on other exchanges by increasing Prestige, used to close the Explorer Atlas and Purple Quests, Sea Adventures, as a reward for completing Traveler's Books Efon Union and Royal's Daily Quest Orders.

20. Liberty Island
You need to grab the NPC that appears on this island and buy the Soul of Liberty Island from him for 16800 Pirate Doubloons.

21. Lover's Island
To get this Soul, you need to complete a purple quest which takes a few minutes. Lyra is at the top of the island.

22. Escape Village
The daily quest "Arrest the Criminals" needs to be completed six times (when you are about to complete the daily quest, look at the rewards, as there are two daily quests on this island).

23. Lieberheim
It would help if you gained the highest reputation with NPC Henry Ducane. We carry out his mission and have the opportunity to develop friendships.

24. Trembling Reed Island
According to the schedule, you can reach this PvP island four times a week. From the treasure chest you received after the event, and there is a chance to get souls. See the Shivering Reed Island activity guide.
Shivering Reed Island event generation date and time: Friday and Sunday at 13:00 and 20:00.

25. Rune-Liar
Purchase the Quest 3 Giant's Heart from the NPC. The easiest way to get the Giant's Heart is to do 80% of the Tortoiseshell Continent. After completing the main chain, complete the purple quest in Mochitochi. You can also go to the 18th floor of the Tower of Shadows (learn more methods). You also need Resonance Song (how to get it?).

26. Peace Island
Completing the purple quest is a must. They will provide access to two dungeons: Moraya Ruins (Judea, Salt Desert) and To the Heart of Tortoik (Basalt Forest, Tortoik). We passed, got the item, and returned to Peace Island to talk to the NPC. He buffed us, and we killed the golem at the beginning of the island. We go back and hand over the mission.

27. Pandang
We build our reputation among local Fufu pandas. Initially, we do purple missions.

28. Dream Seagull Island
We did a simple purple quest, but to complete it, you need three things: Song of Ludria, Song of the Woods (see how to get it), and Dance 2 (for the quest on the cruise ship). It's not superfluous to see a detailed guide to collect all the melodies.

29. Turtle Island
We did a simple purple quest chain and got a soul + item red coral mount, which can be exchanged with luxury merchants.

30. the Island of Greed
The Soul of the island is obtained in a secret dungeon whose map is sold from a merchant on the same island for 60 swords, which you can get during the Greed Island event.